Award-Winning 18-hole Championship Course
The 18-hole championship course boasts of beautiful views, lush greens and tons of fun. The 18-hole championship course boasts of beautiful views, lush greens and tons of fun. The beautifully manicured 18-hole championship golf course has a classic layout and was designed for the true golf enthusiast. In 2003, the course was completely renovated by the renowned course architect, Tom Clark. As you progress through the 7,100 plus yard layout each hole is more beautiful than the last. We also boast a fully stocked pro-shop, a large driving range, practice bunkers, and our little gem on the Nansemond, the 9 hole par 3 course.

Over 30 annual member events are coordinated by our PGA certified staff. Private and Group lessons are available with our PGA Head Golf Professional, Reid Derco. Golf course Superintendent Chris Keen and his staff ensure course conditions that are unmatched your round in Southeast Virginia. Our newly renovated bridges and walkways and new bunkers have given our course a fresh look and easier playing conditions.

Pace of play is important to us. With 10 minute tee times the enjoyment of the course is unmatched by any other local courses. A typical round of golf at Cedar Point is usually just over 4 hours.

Playing conditions are usually superb here in the Coastal Virginia area. The course is usually closed on Christmas and New Year's Day, but if the weather is right, we open the course… can't let a beautiful day go to waste. For reference, the course is closed on Mondays for maintenance.




The 18-hole championship course boasts of beautiful views, lush greens and tons of fun.



"Cedar Point is a special club. The friendliness of the membership and staff makes coming to work every day a pleasure. Whether a long-time or recent member, you are a part of the Cedar Point family."
— REID DERCO, CEDAR POINT GOLF PRO



Golf Membership OptionsMembership options include a choice of Golf Lite Membership or Full Golf Membership.


Full Golf Membership gives you access to all golf venues including the 18-hole championship course, 9-hole par 3 course, driving range and short-game greens. Full golf members can also add annual driving range membership for individuals, couples or families; lockers; and/or bag storage.


Golf Lite is an annual addendum to your Sports membership that includes access to the driving range, short-game greens, and the award-winning 9-hole par 3 course that runs along the beautiful Nansemond River. Golf Lite Members can also take advantage of the 18-hole Championship course 6x per year paying only 75% of the guest rate.

Golf LessonsGolf Lessons can be schedule by members and non-members. Prices vary based upon membership and staff instructor.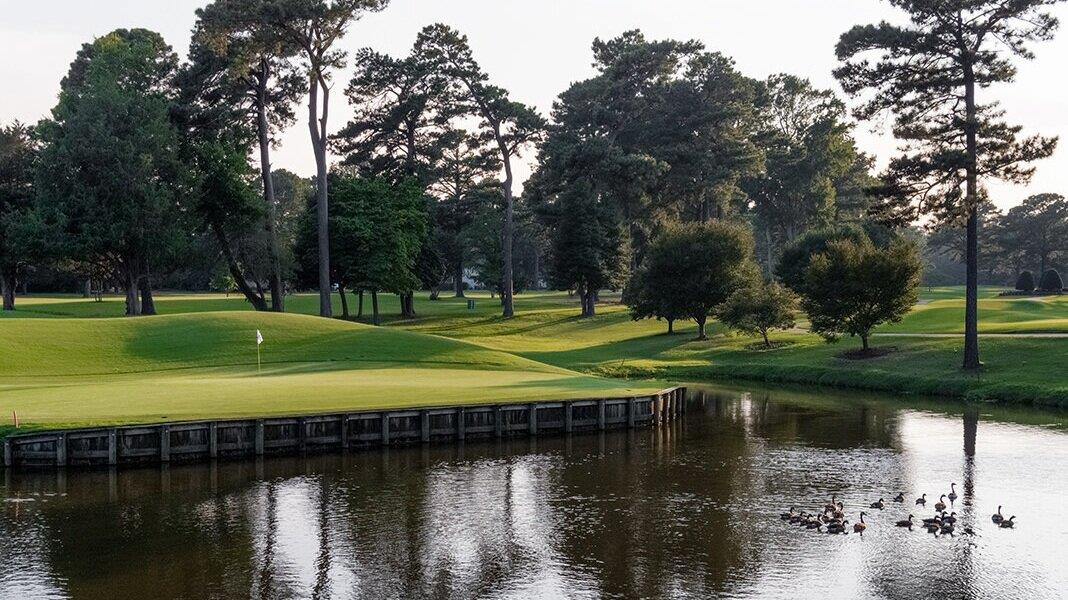 Member Golf Events
Wine & Wedges— Hey, ladies… enjoy instructional programs from our golf pro while sipping on a favorite glass of vino. Minimal cost for registration.

Nine & Dine— Enjoy a casual 9-hole event with your spouse and other club members with their spouses. Minimal cost for registration.

Junior Golfers

Week-long golf only camp for members and non-members. CLICK HERE FOR DATES AND PRICES

5 Weeks of sports camp that includes golf, swimming and tennis

Junior clinics are held on week nights. Weeknights vary.

PGA Junior League team (ages 6-13) that is a 2-person scramble against another club (easy to qualify)

Fitting Days— Cedar Point Club hosts several fitting days per season with all major manufacturers at no additional cost to our members. Manufacturers include, but not limited to, Titleist, PXG, Taylor Made, Callaway, Ping, Cobra, Cleveland, Srixon, and Xxio.

Member & Holiday Tournaments— Cedar Point Club holds member tournaments in a wide variety of formats throughout the season including, but not limited to, individual and team events.

Par 3 Member Events — Cedar Point Club offers members a fun, Par 3 tournament held on the Wednesday before each of the 4 Majors. Enjoy different formats, music and beverages with fellow members.

Men's Events— Cedar Point Club offers members more than 30 events annually ranging from fun 9-hole formats to competitive 36-hole stroke play events.
Non-Member Golf Events

You don't have to be a member to enjoy a world-class outing for your corporate or family event. Treat members of your group to a wonderful golf experience at Cedar Point Club. Let us host your next fundraiser, corporate outing, or customer appreciation event. The Cedar Point staff will work closely with you and your committee to ensure a first-class experience.

Options include:

A memorable round of golf on our Championship Course.

A fun event on our Par 3 course overlooking the Nansemond River.

Lunch and/or Dinner in our dining facilities, while enjoying the breathtaking views.

Services you will receive while holding a World Class Golf Event at CPC:

Bag Drop Services

Cart Staging with Nametags

Scorecard Preparation with Handicaps

Scoring Summary

Rules Sheets

Tournament Prizes

Range Balls/Practice Green and Bunker

Assistance in Developing Tournament Formats and Contests

A Fully Stocked Golf Shop

Indoor Dining / Post Golf Ceremonies

If you are interested in experiencing all that Cedar Point has to offer, please contact Head Golf Professional Reid Derco at (757) 238-3554.



Charitable Golf Tournaments are a great way to raise money and enjoy a beautiful day on one are the region's top golf courses.

---



Guest information

We hope to make your experience at the Club an enjoyable one. Please take note of our guest policies and procedures. Should you have any questions, please do not hesitate to reach out to Head Golf Professional, Reid Derco, PGA at 757-238-3554 or

reid@cedarpointclub.com

.

Rules / Procedures No outside food or beverage (including alcohol) is allowed on the premises as mandated by the VA Department of Health and VA Alcohol Beverage Control. Guest lockers are available for use, refrain from leaving personal items on the floor of the locker rooms. See the Pro Shop attendant for direction and access to guest lockers.

Attire
Men: Appropriate golf attire is required for all players, coaches, spectators and volunteers. All shirts must have a collar. Denim jeans are not permitted. Appropriate footwear is required, metal spikes are prohibited.


Women: Shirts may be sleeveless if with a collar or if without a collar must be with sleeves. Denim jeans, halter tops, tank tops and bathing suits are not permitted.


Pace of PlayThe Club's pace of play rating has been set at 4 hours and 15 minutes. This stated goal may be modified based on course conditions or special occasions. The Professional Staff will monitor play and make every effort to correct slow play issues as they arise. We ask that you do your part to make sure your group meets this expectation. Play Ready Golf!

Practice FacilitiesOn the driving range, please utilize the right side of the teeing area. Longer clubs (woods and hybrids) are to be aimed left. Please do not hit any golf balls into the road or residences on the right side of the range. When taking divots from the turf, place the ball 1 inch directly behind the previously hit golf ball and make lines with your divots. This significantly reduces our turf damage and promotes a faster turf recovery time. If using the practice bunker, please rake the sand when finished. Our putting green is our most prized part of our practice facility. All participants are expected to have proper greens etiquette. If a player is doing a drill and standing in the same spot, they are to stand on a white towel that the golf shop can provide. Refrain from chipping or pitching onto the putting green. Please utilize the short game area or the 1st green on the Par 3 course to practice those shots.

Golf Course (Championship and Par 3)We ask that you do your part in caring for the golf course by using the sand mix provided on your cart to repair all divots in both the fairway and the rough. Walking sand bottles are available at the golf shop and on the 1st and 10th tee boxes. Please repair all ball marks, rake all bunkers, and pick up all broken tees that can be rendered as trash. Players must abide by the specific cart restrictions that will be provided on your day of play. Always park your cart on the Cart Path when nearing Tee Boxes and Green Complexes. If you elect to walk, push carts should never be pushed between a Bunker and a Green Complex. Spectator carts are always to remain on the path.


---
Watch the hole-by-hole video commentary of all 18 holes on our award winning championship course.
The Pro Shop
The Pro Shop at Cedar Point Club offers custom corporate promotional items ranging from golf balls to lifestyle items including clothing and accessories.
Click here to browser items