Your dream wedding starts here.
Cedar Point is the perfect location for your wedding, rehearsal dinner, bridal shower or luncheon. Our Clubhouse can accommodate up to 200 people for a large cocktail-style reception or your smallest intimate gathering during the daytime hours or evening hours. The clubhouse and surrounding greens are available with a breathtaking view of the Nansemond River. We can also accommodate larger parties under tents on the event lawn overlooking the river.
START PLANNING
Facilities and Capacity


Cedars on the Nansemond, a large dining room space which can serve approximately 140 guests, looks out onto the picturesque Nansemond River. Cedars offers a neutral palate and modern feel that are easily adaptable for your event. The large windows are a benefit of this space, offering stunning views of the outdoor surroundings. The clubhouse also features small meeting rooms and a large banquet area that can host events from 50 to 140. Included in the rental are our existing tables, chairs, china, glass ware and silver. It is the mission of the team to ensure that the venue is converted into a place that fulfills every vision and dream the client hopes for.





The Juniper Room can accommodate 40 members and guests. Derived from the scientific name Juniperus Virginiana, Junipers are coniferous trees and in the cedar family that are native to our area. A more masculine aesthetic, The Juniper Room makes a perfect spot for grooms and groomsmen to share a toast prior to a wedding ceremony or dine before a bachelor party.

Oh, by the way, Juniper berries also make a nice cocktail garnish and is the only botanical found in all gins. This gives us a reason to celebrate the spirit of spirits.


| | |
| --- | --- |
| | |
---
The Godwin Room
The Godwin Room, named after Governor Mills E. Godwin, who was present at our opening ceremony in 1964. The space itself is a blank canvas with endless potential and can accommodate up to 20 guests. The Godwin Room is perfect for bridal showers and luncheons, or other intimate private gatherings.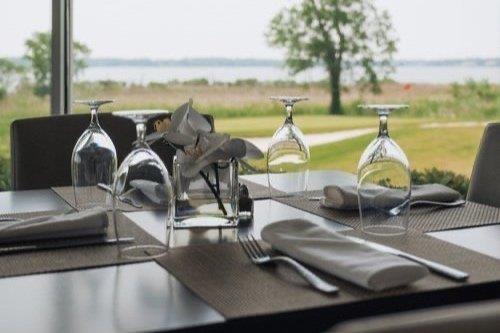 ---
Services Offered
Full-service event professionals that create bespoke events perfectly tailored to each client's vision. Our team will manage all your event needs from rentals, room diagrams and décor to fully customized menus based on your palate and preferences. For outdoor events, we can accommodate with pristine greens and trees. Gather under an arbor flanked by mature trees amid the expansive and serene background of the river. Cedar Point Club can accommodate up to 200 people in the clubhouse, with the option of outdoor tents for larger gatherings. If you are interested in this venue, but want see the location, a scheduled tour of the venue is available. Outdoor patio area overlooking the Nansemond coming soon! We also offer free, ample parking at the club. *Capacity - 140 MAX seated; 200 MAX cocktail (If the event is ONLY held indoors)
---

Cuisine
We are delighted to present you with a variety of menu items that feature thoughtful food selections in partnership with local farmers whenever we can. Our menus have been curated for an enlightened experience made with quality ingredients. Offering everything from plated dinners to chef-attended stations, every menu can be tailored to your palate. Please inform our team of any dietary restrictions or allergies so that we may accommodate you and your guests. Except for wedding and novelty cakes, outside food and beverage is not permitted. Once a menu has been finalized, we would be pleased to offer a complimentary tasting for two. Any additional guests will incur a $25 charge per person.

*Minimum Banquet & Event total is 24 | Maximum Indoor Banquet & Events capacity is 140 | Maximum Indoor/Outdoor Banquet & Event is 200.

**Prices subject to change based upon current supply chain and economic conditions.



---
Here's what to expect while planning your event:
TO GET STARTED: Fill out the form below to schedule your initial consultation. This will be your first step to getting your special day reserved on our calendar. If your date is available, a non-refundable retainer is required to hold your date.

AFTER INITIAL CONSULTATION: Planning for food and beverage (no later than 60 days out).

45 DAYS OUT: Menu creation based on your palate and preferences. Once your menu is finalized a tasting will be scheduled.

30 DAYS OUT: Pricing is confirmed (per person or per piece).

15 DAYS OUT: 100% payment due based on final confirmed head count. We have flexibility to increase your party size slightly within 15 days. However, final head count cannot be decreased within this time frame.

7 DAYS OUT:Balance will be invoiced and due upon receipt.

DAY OF: Event execution by our team of seasoned event professionals.
---
We think your day deserves our best.
Although we've hosted hundreds of wedding and other special events at Cedar Point Club, you'll feel like yours has been given the most consideration and attention to detail. With ceremony options on the lawn overlooking the beautiful Nansemond River to hosting up to 200 of your favorite people, Cedar Point Club will make your day one that no one will forget… you'll be the "talk of the town".
Got Questions?
Because everyone's wedding day is so unique, we've been given the chance to become part of so many special days. Here's a few questions that asked often. We hope it helps:
Can I get dressed at the Club? The answer is yes. We have our beautiful Aquatics Lounge and Women's Locker room for the ladies. This area will be transformed with right amount of counter space, mirrors and a secure places to store your garments. Our mens' golf locker room in the main clubhouse is available for the men of your wedding party.

Before I decide on food, can I see some samples of your culinary capabilities? We're glad you asked. Because every event at Cedar Point Club is special, we include customized food and beverages menu packaging to fit your budget. Not sure how to get started? No worries. Our award-winning team will guide you to the right decisions to fit your special day and your budget. Check out the current Cedar Point Club Banquet Menu Selections.

What are my dining location options? We offer our full dining room (up to 150) for plated meals, buffet-style meals, and/or serving stations. If you'd like to enjoy the outdoor views, we do offer a space next to the club house for hors d'oeuvres and cocktails only

Is there a site fee for having my wedding here? Yes. For your customized quote, please click on the button below the get started.

What am I responsible for as the Bridal party? We want this to be a relaxing an easy day for you. It is required that all weddings have a "Day Of" planner and that all event partners provide a business license and certificate of insurance. You'll also be responsible for a day-of wedding coordinator, special decorations (floral/specialty linens/etc), cake, photographer and/or videographer, transportation, any special outdoor rentals and entertainment. Need help? No problem. We have preferred vendors that are great at this. Just ask us.

Is there a minimum food order? Yes. For your customized quote, please click on the button below the get started.